We are family owned and operated – Husband, wife & son (David, Debbie & James Baker) and like any true family organisation we genuinely care, are attentive, and will go above and beyond to make sure that you receive the best service possible.
Abbey Kitchens has been established for over 20 years – We receive excellent customer feedback and the majority of our business comes from recommendations.
We are proud members of KBSA – meeting highest standards of professionalism and workmanship, and to provide consumers with an assurance of quality together with deposit protection.
All timbers used are 'A' Graded and only from sustainable sources – FSC certificate number C015905 www.fsc.org We care about the environment.
Truly Bespoke – Many companies claim to offer bespoke products when in reality they use standard sized units. All of our bespoke range is TRULY bespoke, made to order and handmade by master craftsmen.
Our focus is solely on you – We only ever work on one project at a time, therefore our fitter will not disappear half way through your fit!
Longevity, skill & reliability – We have used the same fitter and painter for many years, in our opinion two of the best tradesmen in the business.
A fantastic product at a fair price – We charge what we consider to be a fair and reasonable price. We don't offer gimmicks, bogus 50% sale prices etc, just a fair and honest price for a truly fantastic product.
Our clients…
All of our clients are treated with the utmost respect, and we work closely with you to ensure that you receive the best possible service, from the initial design all the way through to fitting. We are always available should you have any questions regarding the design, or the fitting of your dream kitchen. We only commit to one project at a time, therefore enabling us to offer you our full attention and focus.
We work to a range of budgets – from traditional bespoke kitchens to handleless modern designs.
We have a range of styles on display at our showroom nr Sudeley Castle in Winchcombe, just outside of Cheltenham. Of course every kitchen is individual and these are only here to offer you some guidance and inspiration.
Getting started…
Once we have spoken to you, and visited your home, we often plan more than one design incorporating your 'wish list'. You are then invited to our showroom to view and discuss the plans in more detail. Should you decide to proceed, your kitchen is then ordered and made in our workshop. The next stage is fitting, which is carried out by an experienced craftsman at a mutually agreed date.
Finally, any painting/oiling (if applicable) is undertaken on site by our skilled craftsman to complete the installation.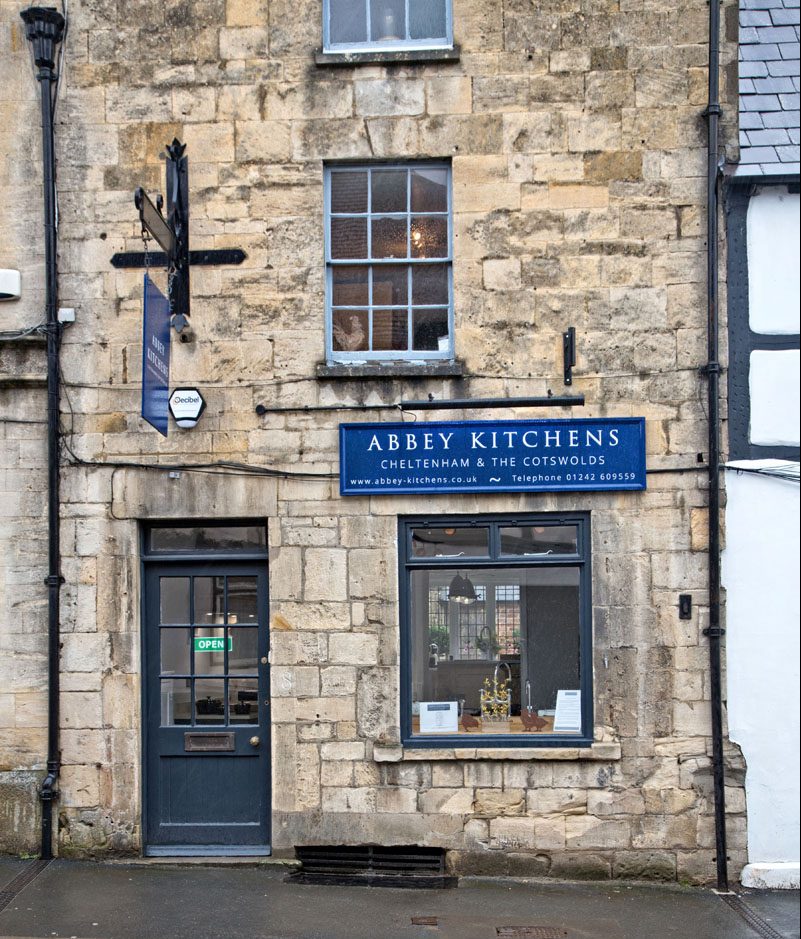 Our Showroom & Appointments
Abbey Kitchens, 8 High Street, Winchcombe, Cheltenham, Gloucestershire GL54 5HT
………………………………………………
t: 01242 609559
e: info@abbey-kitchens.co.uk
**Occasionally we close our showroom to cover appointments. Therefore if you are planning a visit please call or email us first to ensure that we are here to greet you**